A wiry older man with white hair and beard came up to the register for checkout. He had one book to buy. It was
Pain Free: A Revolutionary Method for Stopping Chronic Pain
by Pete Egoscue.
"I buy a lot of these. I have used it, I've given it to friend and relatives. It really works." He shook his head. "It sounds silly to think that one book could make so much difference, but this one DOES. It's amazing."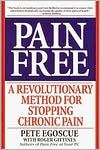 "That's great," I say, not thinking much of it.
"I can't tell you how many people I've given it to, and it's helped all of them. People with back pain or knee pain or neck pain...instead of surgery or drugs, his method
works
."
I start to pay more attention. "My knee has been bothering me, my doctor wants me to do physical therapy."
"You should really look at this book. It's amazing how well it works. It gets rid of the pain. Completely rid of the pain."
"Hmmm. I don't like pain, and I'm not all that thrilled about physical therapy...I may just take a look at it."
"I think you should. Good luck!," he said as he walked out of the store.
My knee had been swollen and very painful. My doctor had recommended physical therapy, and medication, and a brace.
I did look at the book. I bought it.
It took me a few weeks to take the time to read any of it, and then a few days to start doing any of the exercises. Egoscue presents exercises that target specific areas, knees, feet, hips, backs, etc. His theory is that the way we move in our daily lives causes our body to get out of alignment. His exercises are designed to bring the body back into alignment. He says that the first time the exercises are tried, you should feel better. With his exercises, one shouldn't need medication or physical therapy or braces.
I tried the exercises, and my knee DID feel better that first day. I've been doing the exercises fairly regularly and my knee is a LOT better. No more swelling and the pain is almost completely gone.
The white haired man was right.
Thanks for stopping by the blog! Note that you can now subscribe to the blog through your email. You can also send email to: 2of3RsATgmailDOTcom.