Those of us who have grown up with antibiotics may have forgotten how recently it's been that small cuts could easily become severe and often fatal infections.
In Lauren Belfer's novel,
A Fierce Radiance
, Claire Shipley is a photographer for Life magazine. She is assigned a shoot where penicillin, a new and potentially miraculous drug is being tested. This assignment hits close to home for her, as her daughter died from a blood infection, which antibiotics almost certainly would have cured. She meets Dr. Jamie Stanton, and his sister, Tia, two doctors on the team, for whom the penicillin quest is also personal, as they had relatives die of infections. Claire and Jamie's relationship, Claire's family, the government and corporate interests in penicillin, a death (murder?), and World War II are all incorporated in this ambitious novel.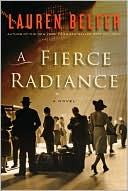 (Barnes and Noble)
(Amazon)
Belfer has done her homework. On the cusp of finding an effective drug that would cure bacterial infections, World War II made the search more urgent. In war, infections from battlefield injuries resulted in huge loss of life. Penicillin was seen as a weapon of war.
The book opens in New York, three days after the attack on Pearl Harbor. Penicillin is being made in milk bottles and bedpans with mold, and still hadn't saved a person, mostly because they hadn't figured out how to make it quickly and in large quantities.
Everybody wants to know how to make this stuff. Pharmaceutical companies compete to produce penicillin and other antibacterial drugs. The military gets involved. Claire wants to document the progress as a photographer. There is a suspicious death. And there is government and corporate intrigue.
Sometimes I felt as though the book couldn't decide what it wanted to be - talking about the discovery of penicillin, a story about Claire and her family, a love story, a murder mystery, or maybe a thriller about government and corporate conspiracies. It tried hard to do it all.
The writing didn't always flow smoothly for me, perhaps going along with not always feeling as though the book knew where it was going.
Overall, however, the book worked for me. I really liked having historical context for the discovery and development of antibiotics, and liked how Belfer wove the fiction in with the history.
**********************
Note: Now you can
subscribe
to this blog! See the Subscribe buttons toward the top left of the page.
And, you can email me, Bibliophile, at 2of3Rs AT gmail DOT com.
Clicking on any of the covers on the blog will take you to either Amazon or Barnes and Noble, where you can buy the books to have on your very own bookshelf.
Thanks for stopping by!