A follow-up to Moore's
A Dirty Job
,
Secondhand Souls
continues to follow Charlie Asher, Minty Fresh, Lily, and Sophie as they try to figure out how to deal with the whole death and soul vessel retrieval thing.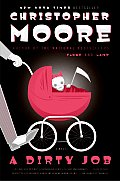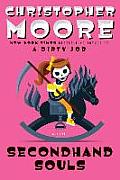 &
When we left Charlie Asher in
A Dirty Job
, Audrey had put his soul into one of the squirrel people, meat puppets she'd cobbled together from spare parts of other animals.
Secondhand Souls
opens a year later, our motley crew discovering that people are dying, but their souls are not being collected. This can't be good. They try to figure out how to stop the impending doom, racing against time.
This is a great continuation of
A Dirty Job
...so fun!
I was lucky enough to receive a copy of
Secondhand Souls
through librarything.com's Early Reviewers program. Thank you, librarything!
Thanks for stopping by! Check out the blog's Facebook page: NOT The New York Times Book Review. Happy reading!