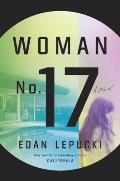 WOMAN No. 17 by Edan Lepucki
I was lucky enough to win this book through librarything.com's Early Reviewer program. Thank you, librarything!
I'd read and enjoyed Lepucki's first book,
California
, a post-apocalyptic novel about Frida and Cal, a young married couple.
I was intrigued by the title of her new novel,
Woman No. 17
, and wasn't sure what to expect.
Lady is recently separated from her husband, and is searching for someone to take her of her young son, Devon. She finds "S", a young woman who bonds quickly with Devon, Lady's older son, Seth, and Lady herself. Lady is trying to figure out if she wants to get back with Karl, and is beginning to write a book about her journey with Seth, who does not speak. "S" dropped out of a college art program, and is experimenting with who she is - the "S" is a shortened version of Esther, her given name.
Told from both women's point of view,
Woman No. 17
explores friendship, relationships with children and partners, and art. Both Lady and "S" have a lot to figure out, and they sometimes encourage and help each other and sometimes hinder and hurt each other.
I enjoyed not knowing what "Woman No. 17" was until well into the book, as well as these two characters. A good read!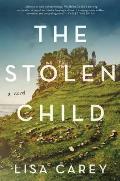 THE STOLEN CHILD by Lisa Carey
In 1959, sisters Emer and Rose live with their families and communities on St. Brigid's Island, an isolated island in Ireland. It is a rough life, everyone's well-being depends on the land and the sea, both of which can be harsh and undependable. Rose is sunny and fertile, producing sets of twins every few years. Emer is dark and brooding, cherishing and protecting her only child, a son.
Brigid, an American, comes to the island. Her uncle, who lived on the island all his life, has died, and left his house to her. However, Brigid comes for more than just a new home. She is hoping for a miracle. St. Brigid's Island is steeped in mystery about St. Brigid, who is said to have lived on the island centuries before. Brigid, the American, is hoping that St. Brigid can give her what she wants most of all.
Brigid has a hard time breaking into the community on the island. The islanders, including Emer, with whom she develops an intense relationship, are reluctant to share the island's secrets with her.
Irish myth and lore is intricately woven into the lives of these women and their families, bringing depth and beauty to the story. Well done!
Thanks for stopping by! Clicking on the book covers will take you to Powell's, where you can find out more about these books. Happy reading!