A slender woman, short brown hair, maybe in her 50's, came up to me and asked where the books like Gary Larson's
Far Side
books are. I showed her a few Gary Larson books we have in the bargain (i.e. cheaper) section, and then showed her the section in Humor with all the rest of the comics are, Calvin and Hobbes, Garfield, etc. She sort of stood there for a moment, thinking.
"Let me tell you what I'm looking for, maybe you can help me," she said. "My dad has early Alzheimer's, and he really likes comic strips in the paper, but he gets easily distracted, so..."
"Ah. In a lot of these books the comics are jammed in there, the pages are pretty crowded. It sounds as though he needs some that have maybe one comic on a page, or just a few.
The Far Side
is good for that, here are some of his that just have a few on a page. We also have a few with comics from The New Yorker, those have just one on a page.
Calvin and Hobbes
,
Zits
, a lot of them are really busy, so much crammed on each page." I showed her The New Yorker cartoon book.
"He's been having my mom make larger copies of comics from the paper and put them on the wall. I thought a book might be good, they are larger and that way he can look at as many as he wants and then be done with them. He gets overwhelmed easily," she said.
"My mom had Alzheimer's and she if something overwhelmed her, she'd just be done with it, she would be too frustrated and she'd just give up. Having lots of white space on a page is a good idea. My mom also had a stroke, and after the stroke, she found some things funny that she never would have found funny before. It's as though some of her sense of humor changed after the stroke. But hey, she was laughing, laughing is good."
"Absolutely," she said. "I want to give my dad what he likes while he can still enjoy it. Thanks for all your help, I'll keep looking here."
"You're welcome," I said. "Good luck with everything."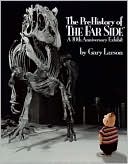 You can email me, Bibliophile, at 2of3Rs@gmailDOTcom.